Winter decided to make a return to the northwest, and Dan and I couldn't pass up the opportunity for powder at the Pass, especially since neither of us were on duty on Sunday.  We hit the road early, and made it to the Pass before the lifts were spinning.  8-10 inches of fresh snow greeted us, however it was warmer and heavier than expected.  Nevertheless, we made a couple of fun runs on RTS, with ample face shots the reward for our efforts.  Due to all the new snow from the previous day and night, we headed over to Peak 2 to help out with opening.  The run down Northern was nice, and then after a bit of avy control, shoveling and fencing work, Peak 2 was open to the public.  We made pow runs until it became tracked up around 11:00, then headed down for lunch.  After lunch, I grabbed the split and we headed out for the backcountry, with it still snowing hard…
We skinned out to our destination, and discussed which line to drop first.  We decided on a line near the trees in case there was any lurking wind slab avalanche danger.  The turns were fun, albeit a bit heavy.  Dan and I took turns on the camera snapping photos…
After our first lap, we elected to skin rather than boot given the depth of the new snow.  Back at the top, we enjoyed a cold beverage before dropping in for laps number 2 and 3…
We skinned out to the area around 3:00, and were just in time to enjoy a nice pow lap down SDN.  Our timing wasn't too great however, as we ended up getting roped in to a search with patrol for a lost party.  Dan and I ended up with the assignment of breaking trail along the cross country trails towards Gold Lake since we had our backcountry gear.  Around 7:30, after several hours of searching and wading through waist deep snow, the lost skier was found (he'd somehow skied out of the area to the Waldo Road, then walked out to Highway 58 and hitched a ride back to the area).  A snowcat from the area picked Dan and I up and gave us a heated ride a couple of miles back to the lodge, where cold beer was waiting.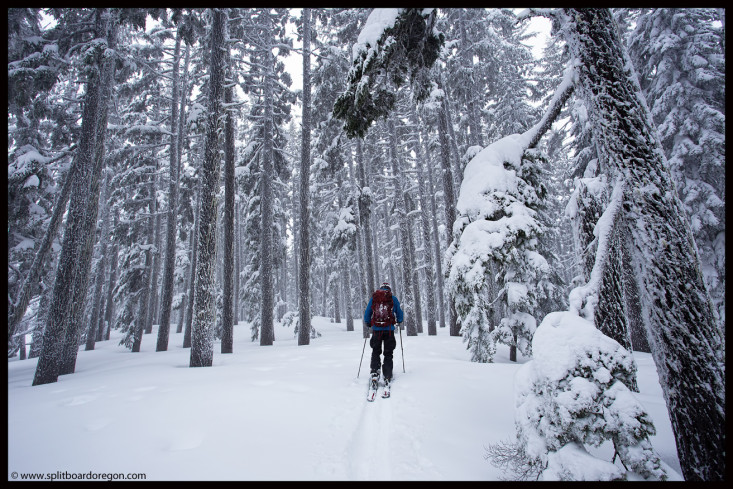 The following weekend I found myself back at the Pass for a Level 2 avalanche class.  The weather was nice on Saturday, so we toured out to West Peak with the group and charted the area, testing the snowpack with various snow pit tests, and generally had a good time.
The snow was deep, and in one place I lost a 230 cm probe and had to dig down 4 feet to find the top!  We skied a few lines on West Peak in marginal snow conditions, and generally enjoyed touring outside the area.
The remainder of the class went well, with beacon drills and organized rescue scenarios on Sunday.  It's a relief that the training is finally over, and the end of the lift serviced ski season is in sight.  While it may be bittersweet, I'm already looking forward to my most favorite season of all — volcano season!  Here's to a great spring!