After getting skunked out of good turns last year on a Hoodoo Dusk patrol with a good crew due to thunder and lightening, Andy and I were hungry to head back this year on a good day. After having the invite the calendar for more than a month, and having to keep pushing it out due to weather, I was beginning to wonder if we were going to miss our window again this year. After several weeks of rain and inclement weather, it finally looked like Saturday would be a "go." I met Andy in the work parking lot early, and we headed up highway 126, arriving to plenty of snow in the parking lot.
We sorted our gear quickly, and grabbed the skis and headed out. After a quick walk through the parking area and by the snow cats, the skins hit the snow and we headed up. It was already getting warm as we headed up above Ed's Chair, and it didn't take long to reach the summit and enjoy the views.
Although we had made turns last year on our dusk patrol, we didn't go higher than Ed's Chair given the weather. This year, I did manage to get to Hoodoo once with both my boys, but we didn't get higher than Ed's either because the top was closed due to lack of snow. So it was definitely good to be back on top of the 'doo after a couple year hiatus. I set about getting my beer on ice, and then snapped a few photos with the telephoto lens. My beer of choice for this day was a tasty Hazy IPA from pFreim Brewing.
A bit more photography ensued while we got ready to drop in for our first run of the day, and I snapped some shots of Mt Jefferson to the north, and then set the tripod up to capture a shot of both Andy and I on top…
With my itch to shoot some photos from the top of the hill satisfied, it was time to drop in. The snow on the east side was looking pretty smooth, so we decided to head down and check it out. I dropped in first, and setup to shoot some shots of Andy as he headed down and harvested the corn.
We worked our way down the face, and the turns were really nice. We worked our way down towards the bottom, stopping where the slope mellowed and snow started giving way to manzanita brush, then donned skins and headed back up. It was a quick skin up to the top of Ed's and then back to the top, where my cold beer was waiting.
For our second lap, we wasted little time up top, and decided to hit the east face again. This time Andy took the camera, and headed down while I waited up top. Once he gave me the signal, I dropped in and shucked some really nice corn…
At the bottom, it was back to skins and then back up the skin track for a second time. I snapped a few pics of Andy on the track as we headed back up.
By the time we got back to the top, a few more folks had made their way up and were skiing off the summit proper under the chairlift. Wanting to find an area that hadn't been tracked yet, we decided to go explore the backside and see if any snow remained.
As luck would have it, there was a decent line on the back that hadn't been hit, so we strapped in and headed down. The turns were nice, but somewhat short since we made a wrong turn and had to do a bit of brush beating to get back to the snow.
Although our line had decent coverage, the snow was pretty sloppy, so we decided to call it after one run and head back to the top to get one more lap in on the front before heading down to cook up some burgers.
Our final lap provided good, but somewhat sticky turns off the top, and we worked down the face and then on to the mellower slopes below. It was a treat to be able to ski right to the parking lot, and them make the short hike back to the car.
Back at the car, it felt nice to change out of the ski boots and get the burgers going on the BBQ. We had all the fixin's to go along with the burgers, and it didn't take Andy long to get the grill smoking. It was also time to throw another beer in the snow to get ice cold. This go around, I enjoyed a Lib Tech Skunkape IRA from Boneyard Beer to go with my Lib Tech DIY splitter.
A few minutes later, the burgers were cooked to perfection, and we were enjoying a moment that I look forward to all year — burgers and beer at Hoodoo!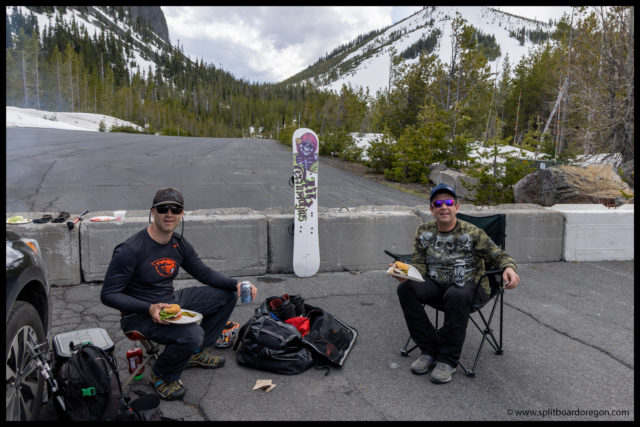 After relaxing for a bit and enjoying our food and drink, it was time to hit the road and call it a day. With any luck, the snow may hold up until the first part of June at Hoodoo. Until then, here's a parting shot from the day.