Dan and I had been planning on taking Thursday off to make some turns at the Pass, but it didn't look like the lifts would be turning. Not to worry, we threw in the packs and skins and headed up to the Pass early, leaving Dan's around 6:00 am. The drive up went quickly, and we stopped off at Gold Lake to change into ski boots and gear. After a quick chat with Jensen, who was also heading up to make turns, we made the short drive to the Pass, dug out a spot to park the truck, and headed out.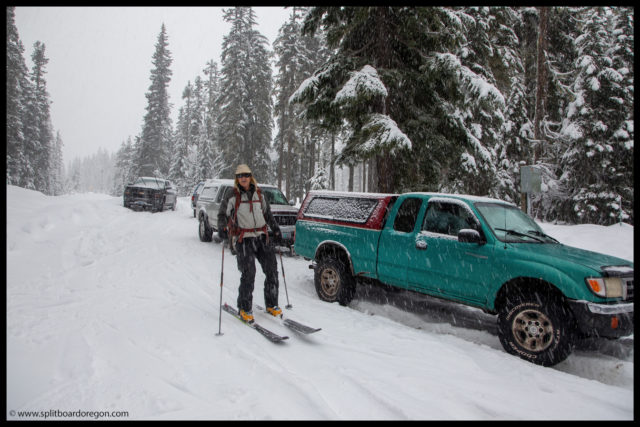 There was about 6-8 inches of fresh, heavy snow at the base, and it took us 20 minutes or so to shovel out a spot for Dan's Toyota. Then, after a quick jaunt across the highway, we followed Jensen's skin track up Timburr Glades…
The snow on the front side of the mountain was in decent shape, but there was a pretty firm crust under the new snow from the the rain from a few days earlier. Once we topped out at the top of High Lead, we decided to head over to Peak 2 to see if we could find some better conditions.
As we made our way over to Peak 2, the snow felt better, and when we arrived at the top, there was about 10 inches of fresh and it appeared there wasn't the persistent crust that was on the front side. The snow stake was at 42 inches, and we wasted little time ripping skins and making our first run down Northern. I dropped in first, and the turns were really nice, and Dan followed as I snapped a few pics…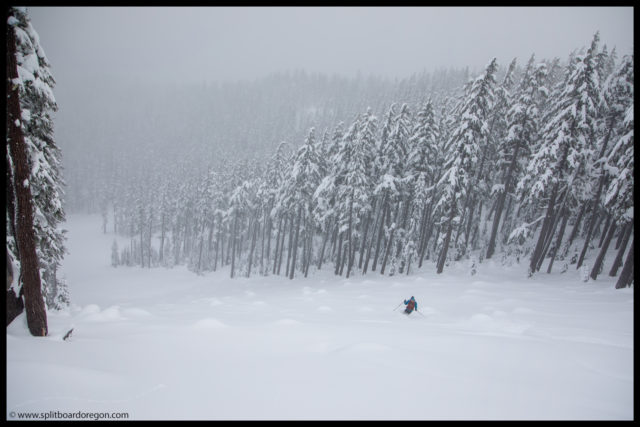 We worked our way down to the bottom of the run, and the coverage was excellent. At the bottom, we were both stoked, and quickly transitioned over to skins and started up Escalator. The wind was ripping up Escalator as we headed up, and soon we worked our way to the top and up Boundary.
Back at the top of Peak 2, it was time for a snack, and also time to enjoy the beer we'd put on ice a little earlier. My beer of choice, and also Dan's since I brought one for him, was a super tasty Big Winter barley wine from Good Life Brewing. The notes of caramel and chocolate definitely hit the spot, and we enjoyed a few drinks before putting them back on ice so we could enjoy another run.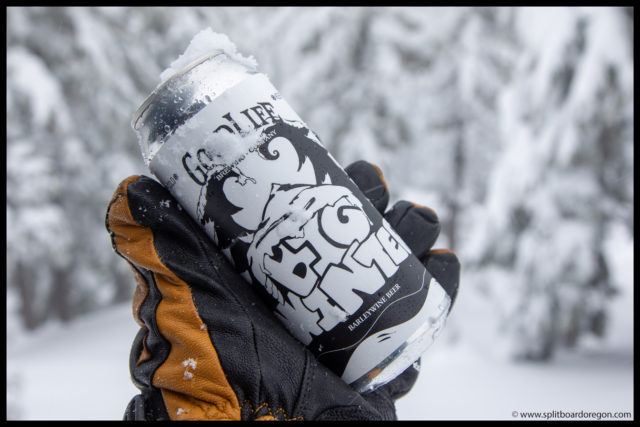 Northern was so good on the first lap that we decided a second was in order. This time, Dan grabbed the camera, and took some shots of me as I ripped through the powder. As before, we made turns down to the bottom of the run, then headed back up our skin track, which was mostly filled in, back to the top of Peak 2.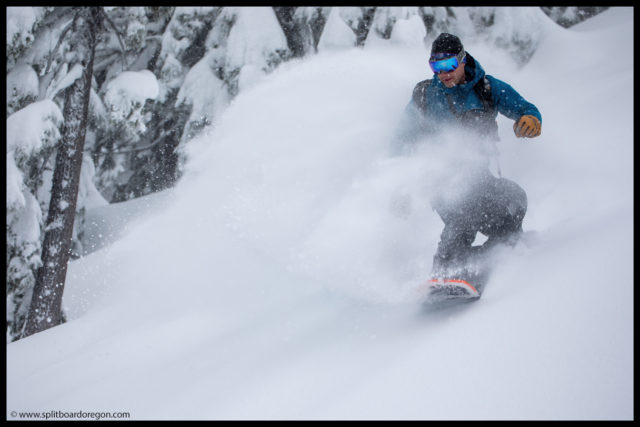 Back at the top, we took another brief break, and enjoyed some more of our beer before heading out for a third lap. For lap three, we decided to head down and check out June's Run, which proved to hold even better snow than our first two laps.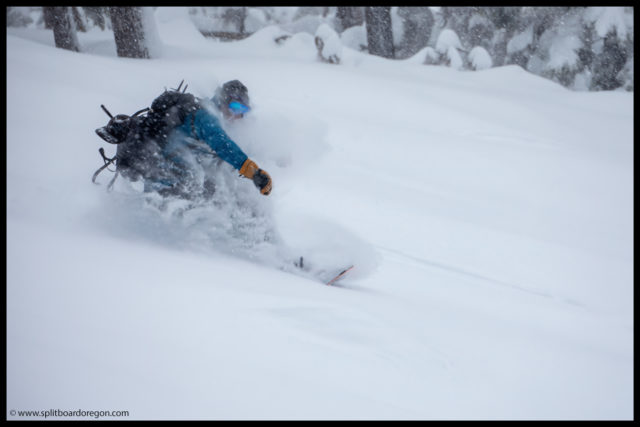 We took turns with the camera shooting pics of each other making turns though the primo pow, and worked our way down June's and then over to the lift line for some more turns before traversing over to the Northern/Escalator runout.
We put in a skin track back up to the base of Northern, and then back up our existing, and yet again filled in, skin track up Escalator.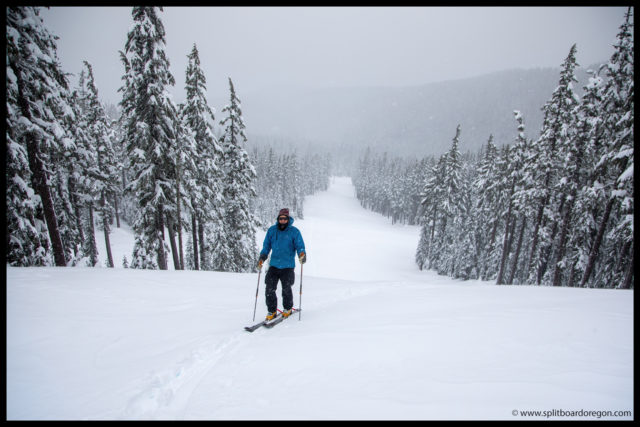 Back at the top of Peak 2, we enjoyed what was left of our beers, and decided that one more lap on June's was in order. For our fourth lap on the backside, we determined the snow was as good or better than it had been all day.
Like before, we skied out to the bottom, traversed over to our skinner, and headed back up one more time to the top of Peak 2. At the top, we collected our gear, and headed over to the top of EPA. After spending all day in the wind and snow, we were a bit cold by the time we reached EPA, and decided a brief stop in the patrol bump shack was in order. It sure felt good to take a nice break in the shack with the heater going to warm up and dry out some of our gear…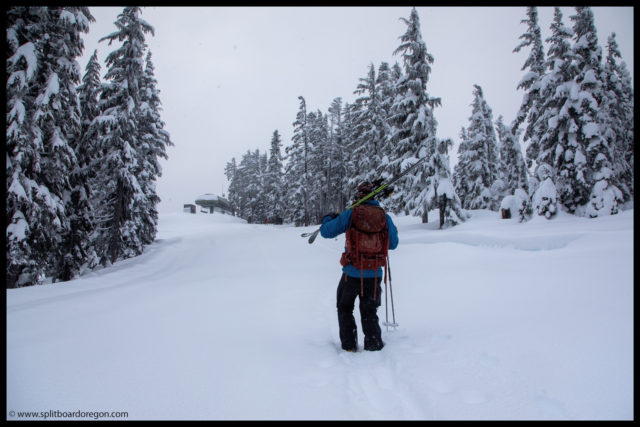 After enjoying a warm space and a good break, it was time to head down the front side for some more turns and then make our way back to the truck before the light waned too much. At the top of EPA, we stepped into our bindings and poked over towards RTS to check it out, but it was super wind scoured and the wind was blazing, so we opted to ski Success, which proved to be a good choice…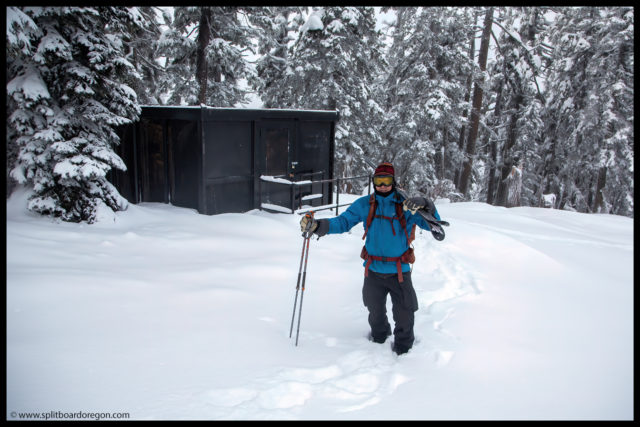 Success was in superb shape, and the snow was fast. We did hit the crust we'd encountered on the skin up, but only a couple of times, and both of us were super happy with the run when we got to the bottom. After skiing Success, we cruised down George and the turns were awesome — reminiscent of some of our April days from years past after the Pass was closed and after a big cold, late season dump.
At the bottom, we made our way back to the highway quickly, and then over to the truck, which had 4-6 inches of fresh cold snow on it. Clearing it off didn't take long, and then we headed back down to Gold Lake to grill some 'brats and enjoy a cold beer. As usual, both the 'brats and the beer hit the spot, and made for a great way to end the day. I washed my brats down wiht a tasty Orange Kreamciscle Ale from Pelican Brewing, and soon it was nearly dark and time to hit the road.
The drive down to Oakridge was uneventful, but after Oakridge it turned into a bit of a mess. A five car pile near Dexter involving a hay truck had sent several folks to the hospital, and the road ended up being closed for about three hours. Rather than sit on the highway, we decided to head back to Oakridge to Jensen's house, and were able to visit with him and Hilary for a couple of hours until the road opened. It was good to catch up with Jensen, and even though we didn't get home until around 10:30, it was still a superb day getting some earned pow turns in at the Pass!