It was shaping up to be a beautiful day at the Pass. The big storm event had come to a close a few days earlier, and we were greeted by sunshine and gorgeous weather for our Sunday. After gathering for the morning meeting and discussing the day's plans, we headed out to open the mountain.
The groomers were in good shape, and once we had the front side open, we headed to Peak 2 to spin a couple of laps. Around 10:00 am, it was time for sled checkoffs. I'd been asked to get a few pictures of our new UO Edge sled, and even though my allegiance is to Oregon State, I obliged by taking a few photos…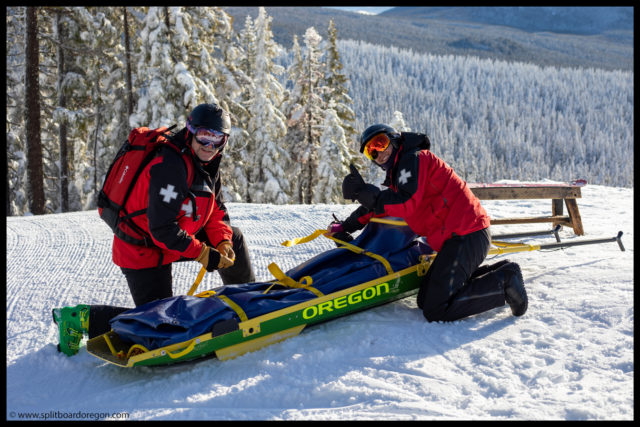 After shooting a few pics of the sled, I swapped out lenses, and was eager to shoot a few portraits with my 50 mm f/1.8 Canon. Matthew made a good subject, and then I snapped a picture of Greg, Joe and Shannon before we headed out to do some loaded sled work…
We took a run down Eagles Flight, and I drove the 100 while Shannon drove the Edge. After half the run, I swapped out from the handles to the tail rope, and then we finished out the run and took the sleds down to the base, and then back to the top of EPA.
The next several runs were spent checking off the other alpine patrollers on the sleds, and we were able to get everyone through by noon. On the last run, I was ballast for John, and with the aid of my fisheye lens, was able to take a few pictures from the vantage point what would normally be a patient…
Once the sled training was done, I went in for a quick lunch, and the remainder of the day was spent dealing with a multitude of issues, including several injuries in the afternoon.
Below are a few shots of Hannah and Shannon pulling Greg down the hill in the new Edge sled from earlier in the morning…
When 3:30 finally rolled around and it was time to close Peak 2, I was relieved. After deploying many of my resources on different events that required attention, I was ready for the day to be over. We were able to sweep Peak 2 and EPA without incident, and closing lower mountain went without issue as well.
We closed the day with an evening meeting at the base, and called it another good day of patrolling at the Pass.