Sunday, December 29th would be the final patrol day of the year as well as the decade, and I headed up solo to the Pass to enjoy a day with Patrol 2. Given the meager snow depth, it would be a lower mountain show for the second week in a row. Nevertheless, it was good to be on the hill making turns.
After the morning meeting, I headed out to the Twilight chair, and spun a few laps on Duck Soup, Timburr Glades, and Rough Cut. I caught a picture of Ed, David and Todd at the top of the chair with my new Canon f/1.8 50 mm lens that I'd got a couple days earlier, and then headed out to make the short hike to High Lead Glades. Hiking out to the glades reminded me of earlier years gone by, when I made the same trek with Dan and Joe in similar conditions…
When I got to the Glades, I was welcomed by a great view of Diamond Peak and some smooth snow on the run. I sat there for a moment or two, enjoying the solitude, before strapping in and enjoying some fun turns back down to the intersection with Timburr Glades. From there, I figured it was time to spin a few runs on the Sleepy Chair. In fact, I think it was my first time (while patrolling) spinning 3 laps on Sleepy…
After the exertion that is demanded from Sleepy, it was time for lunch, and then an afternoon cup of coffee. On my way to the lodge to get said coffee, I snapped a few shots of the lodge with my new 50 mm lens…
The rest of the afternoon was spent spinning laps on Twilight, with one more hike out to High Lead thrown in for good measure. Even though we were only skiing on 10 to 12 inches of snow, the riding was pretty good, all things considered. At 4:00 pm, it was time for lower mountain sweep, and I snapped a shot of the closing crew up top before we headed out.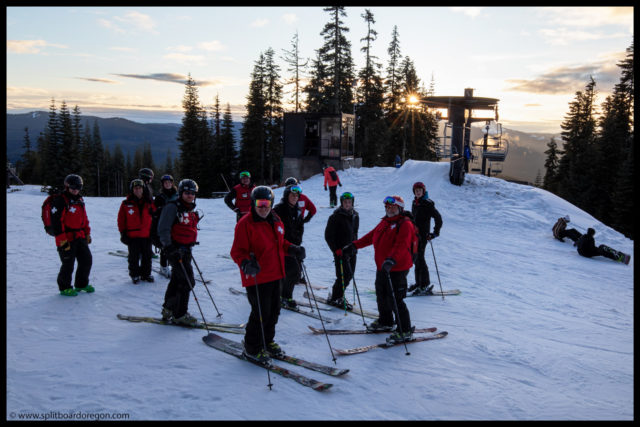 A short time later, sweep was complete, and after our evening meeting, it was time to head down the road and say goodbye to 2019. Here's to hoping that 2020 comes in stronger than 2019 went out…..