After closing out 2018 with a few friends, Julie and I figured the best way to ring in the new year was making turns at the Pass with the family. The forecast was looking sunny, and the kids were excited as we headed out in the morning. The drive up highway 58 went quickly, and soon we were sitting in the patrol room helping the kids with their gear. Somehow during the night before when I was loading gear, I forgot Julie's ski boots, so she ended up spending the day in slippers in the patrol room reading a book. We all walked over to Twilight to begin the day, and I snapped a pic of the family before we loaded the chair…
We started our day with a great groomer down Duck Soup and Sally's Way, and both kids were skiing well. Carson wanted to ski Sally's again, so we hit it up for a second lap before skiing down Picaboo for our third run in the Twilight zone…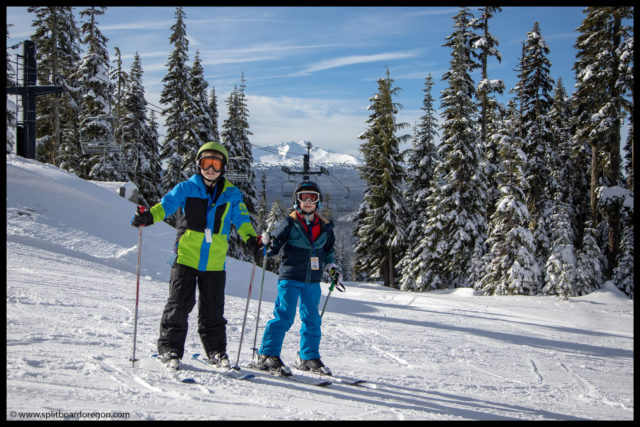 After three runs, we headed in to check on Julie, eat an early lunch, and drink some hot coco. Carson wanted to stay in with Julie and hang out for a little bit, so Shaun and I headed up EPA for a couple of runs. The views from the top were excellent as usual, and the groomers off the top were in excellent condition, so we tried out KP and the Rosary's.
After two runs off the top, we checked back in at the patrol room and Carson was ready to ski again. He was pretty stoked to ride "the big lift" so we loaded up EPA and headed to the top for his first ever trip to the top of the mountain. At the top, Joe was hosting and was pretty stoked to see the boys, and graciously offered to snap our picture in front of Diamond Peak and Odell Lake. For Carson's first run, we headed down KP, and he ripped it…
We spent the next hour and a half spinning laps on EPA, alternating between the Rosary's and KP. Shaun wanted to do Eagles and Charlie, but we agreed we'd try those next time after Carson had a bit more experience under his belt. Watching the kids ski down the runs, up and down the banks on the sides of the runs, and through the trees, I couldn't help but feel proud at how they were doing…
We called it a day in the mid afternoon, and headed down to the patrol room to where Julie was waiting. The kids were happy with the day, but ready to leave, in part due to the promised Dairy Queen treats later in Oakridge. I loaded the gear in the car, and as we pulled out onto the highway, I thought to myself — there really isn't any better way to ring in 2019!