It was snowing hard in the mountains, and Dan and Andy were game to head to the Pass for a day of turns. We made plans to leave early, and met at Dan's to carpool. By 6:45 am we were parked, and we headed out shortly thereafter as the morning dawned cold and snowy.
The snow conditions were pretty nice, especially after the meager winter we'd been suffering through, and breaking trail up KP was something I'd been missing. We made it to Peak 2 shortly after 8:00 am, and wasted little time in transitioning so we could drop in. The wind was blowing, it was snowing hard and it was about 26 degrees — definitely winter conditions. Northern looked prime, so I dropped in first and snapped a few photos of Dan and Andy coming down.
We made turns down to the bottom, and the conditions were excellent. The last 100 feet was a bit wind blown, so we made a mental note to try Down Under on the next lap. The skin back to the top was short, albeit breaking trail through the foot of fresh, and we were surprised that nobody else had shown up yet. Again, we wasted little time transitioning, and headed down. Dan grabbed the camera and shot a few photos of me, including the one below…
We skied down upper Northern, then Down Under, and finished the run with the lower part of June's. It was a blast, and reminded me of patrolling in years past. We put in a short track to rejoin our uptrack, and the wind was howling. I snapped a few pics of Dan skinning ahead of Andy and I as the wind was blasting….
Lap number three was equally as fun as laps one and two, and again I snapped a few photos of Dan and Andy ripping up the pow. This time we dropped into the trees in one of my favorite spots on the hill…
Once out of the trees, we followed our tracks down June's and rejoined our skin track for another lap up. The wind was continuing to pound away, and when we reached the top of Peak 2 we were greeted by Rob and Laurie. We chatted for a bit and enjoyed some food and a well earned beer, then dropped in for a fourth run. The snow quality was still perfect, and we took turns with the camera…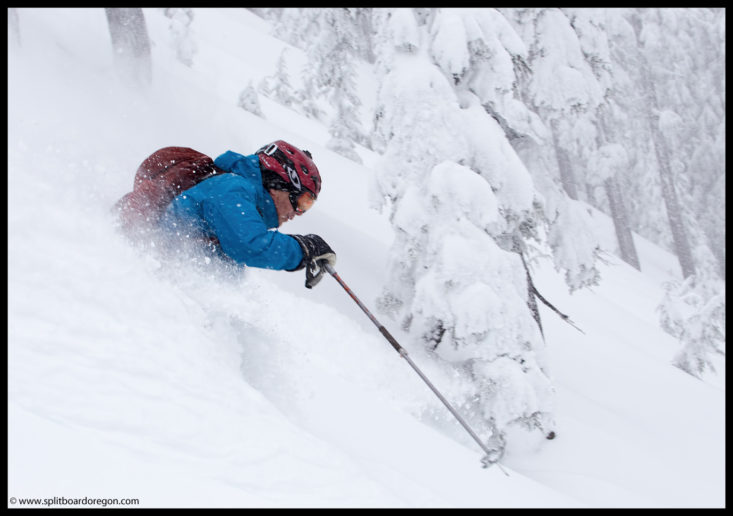 We headed back up for one more lap. Andy decided to ski Boundary and Dan and I did one more on Northern before rejoining Andy and heading back over to the front. All of us were pretty beat by the time we skied over to the front, and we headed up to EPA to enjoy another break before skiing back to the car. For our ski out, we decided on Eagle's, which ended up being a good choice…
The ski out KP was pretty slow, especially for Dan and I — both of our G3 skins had left a significant amount of glue on our bases and left us well behind Andy. We were able to make a few fun turns above Sleepy, before getting back to the base…
At the bottom, we were all stoked on the new snow, especially given what we'd had for winter so far. With luck, winter will be here to stay for awhile because we're gonna need it here in the central Oregon Cascades. Here's a parting shot from the day…