Blue sky was in the forecast, at least for the morning, and it shaping up to be a great Saturday at the Pass. A significant amount of new snow had fallen in the previous days, and the stoke was high at the morning patrol meeting. It was unclear if Peak 2 would open, given that nearly three feet of new snow needed to be cleared from both the top and bottom of the lift, and the avy routes would need to be run as well. Nevertheless, the first ride up the EPA chair yielded the sweet scenery the Pass is known for…
The morning light was perfect, and I didn't waste anytime snapping a few pics, including the shot below of Kerstin at the top of Eagle Peak…
After a couple of runs on the front side, I headed in and grabbed my new Amplid Miligram split to take it out for it's maiden voyage. The first two runs on the board, on both steep slopes and firm groomers blew my mind. The board rocks, and is the first split I've ridden in a resort that rides as good or better than a solid! By 10:00 am or so, Brian and I hiked over to the backside, with the intention of running a couple of avy routes to get Peak 2 open if possible. Several other folks were digging out the ramp at the top, so we headed over with Dan to Dragon's Back to do the control work.
We setup the rope and belay, and Dan ski cut the slopes above the cliffs while Brian belayed and I snapped a few photos….
I was surprised that with all the fresh snow we only got surface sloughs to run and nothing deep. Regardless, we finished the upper route and then dropped in for a few turns before skinning back out to run the lower route….
We made short work skinning out from the meadow back up June's, and I definitely happy with the performance of the Miligram on the skin track — the board was much lighter underfoot than I was used to. Back at the top, we completed the lower avy route, with the bonus of dropping into Gravity chute on the way out….
After running both avy routes on the splits, we headed down to the base of Peak 2 and were able to catch a lift ride back up. Shortly thereafter, with both avy routes complete and the top and bottom of the lift dug out, Peak 2 opened for the season at 1:30. There was no shortage of stoke, pow turns, or skiers waiting to rip up all the fresh snow…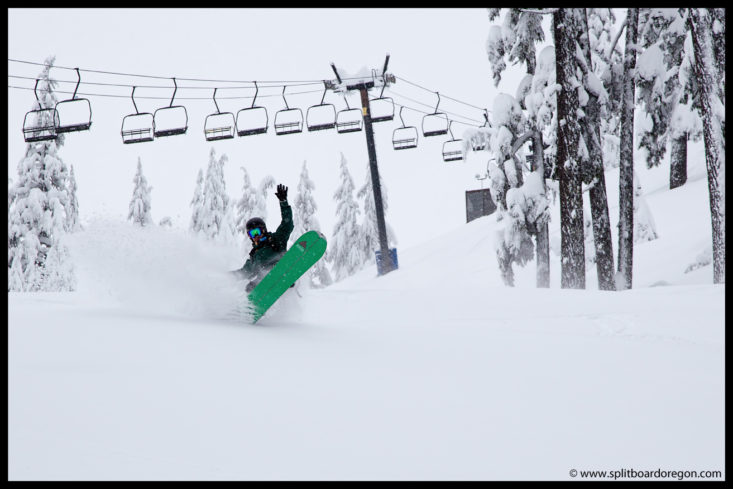 Everyone made lap after lap in the fresh snow. I spent the whole time on the Amplid and was too stoked to head in for lunch. Some of the best turns were had in the trees between Down Under and June's….
We continued spinning laps on Peak 2 for the rest of the afternoon, and I continued firing off shots of the crew enjoying the deep pow.
Towards the end of the day, I ventured out towards the meadow again with Brian, and we found one last powder stash. This time, Brian grabbed the camera and snapped a few pics of me enjoying the fresh snow…
At 3:40, it was time to sweep Peak 2, but the stoke was high knowing that the lift with some of the best terrain on the mountain was now open for the season. Frontside sweep followed, and then it was time for apres beers after a great day. Here's a couple parting shots from the day…