The sun was out for the first time in awhile as Andy and I walked down the stairs from work at 3:00 and loaded into my pickup and headed out highway 126 headed to Hoodoo for a May dusk patrol.  The snow gauge on the web site indicated the base was still at 103 inches, which is substantially more than normal for this time of year.  The drive to the mountain went fast, and before long we were in the parking lot where Todd joined us.  With skin on, we headed up the hill and within a few minutes broke a sweat.  The skin to the top went quickly, and we decided to drop into the east face.  The ride was really nice, though the snow was pretty slushy.
A very slow wet slide started to gain momentum from our turns, and slowly crept it's way down the slope for about 100 yards or so.  I rode a bit more, then waited for Andy and Todd to follow while snapping a few photos of the action with Mt Washington as a backdrop.
There's nothing quite like making turns after a day at work.  I continued on down most of the way to the bottom, enjoying the slushy turns all the way…
I thought that skinning back up the mountain might prove difficult given the slushy conditions, but it proved easy enough, and soon we were at the top of the Ed's chair.
We met a guy from Sisters at the top who had a nordic background, and it showed, as he appeared to fly up the slope making us look like we were standing still!  Todd needed to get back home for other obligations, so he bid us farewell and cruised back down to the car.  Andy and I stayed on top for a bit to enjoy the views before dropping.  The snow in the north facing bowl was excellent corn, and we considered heading back up for another lap, but opted to make turns back to the car where the beer was waiting.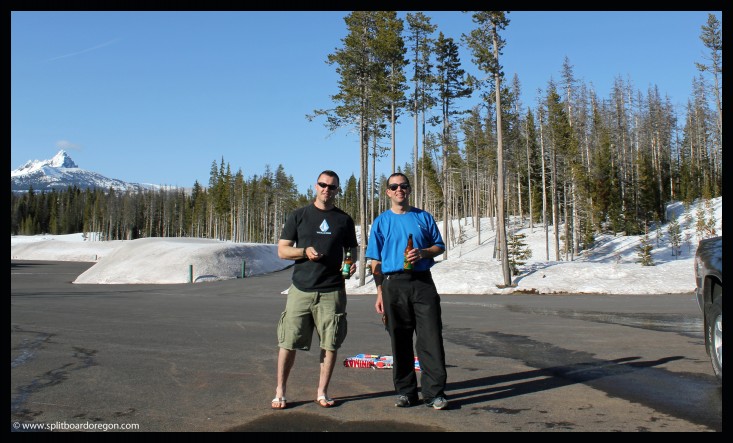 The frosty Wailua Wheat from Kona Brewing that I had stashed in the snowbank sure was tasty.  After hanging out for a bit in the parking lot, we loaded the gear and hit the road.  Overall, the turns were great and the amount of snow left at Hoodoo is amazing for this time of year!  It should be skiable for some time to come!  Here's a parting shot…