After a week of mid-winter rain, I headed up to the Pass for a day of patrolling with the forecast calling for sunny skies. Arriving around 7:45 am to partly cloudy conditions, I could tell the snowpack had taken a beating from the previous rainfall. After the morning meeting, we ventured out onto the lifts to open the mountain. The morning was calm and beautiful.
The snow was pretty hard for the morning runs from the freeze the night before. After making a few runs on the backside, I ventured over to check out the sled training. I saw the red coats down below, and rode up to find Andy and Joe instructing the candidates.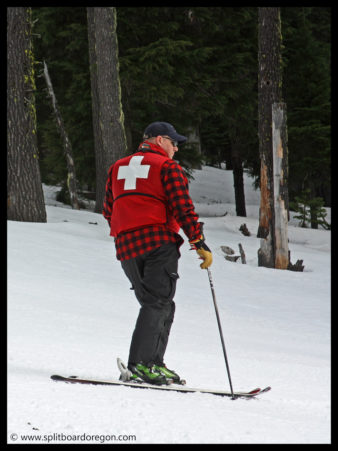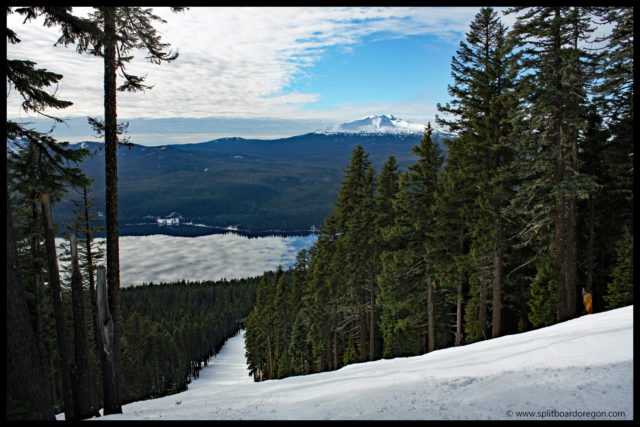 The candidates were working on running loaded 100's, and switching out with time in both the handles and the tail rope. I snapped a few pictures of the work, including the shots below….
I met up with Andy who was up for the day, and we headed to the backside for some runs on June's and through the trees. The snow softened up just enough to make it playful. On the frontside, the snow softened up quite nicely and we were able to make lots of runs on Eagle's Flight and others.
We made a few more runs off the front side, and I sat bump on EPA for an hour. After bump, we made a few runs with some of the local telemarkers and then worked to close Peak 2. Since I ran sweep, I stayed up top while the others closed the runs. After I put away the bamboo and signs, I snapped a few photos.
After getting everything put away, I waited for the rest of the patrol to arrive back at the top, and while doing so noticed the light on the ramp was really nice. A few moments later, I captured a few shots of patrol as they unloaded the Peak 2 chair….
Once the backside was closed, I headed over to the front to begin closing the rest of the hill. The sun was starting to head down in the sky, and I was able to catch this picture of Carolyn standing at the top of the EPA…..
I helped close Timburr, then headed over to the Twilight lift and helped close Swoosh. The run down Swoosh is always fun, and probably my favorite Twilight run. Between closing calls, I was able to snap the below photo of the sun setting w/Diamond Peak in the background……
After the mountain was closed, everyone headed into the patrol room for the evening debrief before parting ways and heading home. Today was another good day at the Pass, but it needs to snow again soon in a bad way. Here's a parting shot of some sled training from the day…