Mt Rainier's scenic south side…
After a sweet trip to the Fryingpan Glacier on Monday-Tuesday, Andrew and I headed to the southside of Mt. Rainier to check out the remnants of the Muir snowfield. We camped at the Cougar campground after a good meal at one of the small town on the southeast side of the mountain. That evening we had a small fire and enjoyed a beer while taking it easy. The next morning, we made the short drive up to Paradise – what a difference compared to the east side of the mountain. There were quite a few people in the parking lot, a little reminiscent of the south side of Mt Hood (without the lifts of course). We hit the Paradise trail the trail by 6 am and it was clear the snow was pretty thin. Here's a shot of the mountain from above the parking lot….
We hiked on the dirt trail for a good portion of the climb. Soon we made it to Panorama Point and were soaking in the views. After gaining a couple thousand vertical feet, we were able to switch to skins.
We climbed to just below Anvil Rock, where we lounged and took a rest break and snapped a few photos. Snow conditions were really starting to deteriorate, and there were major sun cups higher up, so much so that we felt it didn't warrant climbing any higher.
The views south to Mt Adams and the Tatoosh Mountains was excellent. Probably not much riding left in the Tatoosh, but I would like to come back sometime in the Spring and see what it's all about…..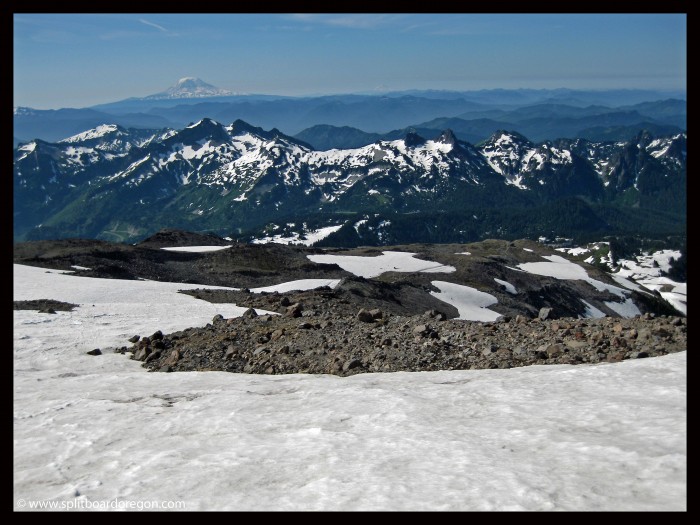 The ride down wasn't bad, all things considered. We were able to link turns most of the way back down to Paradise. There was a nice rollover up higher on the Muir, and Andy found a nice cornice off to the east towards Paradise to play on.
We hit one of the last snow patched above the big bowl just above Paradise, and there weren't any ski tracks in it. We found out later why, as we had to downclimb loose rock for a few hundred feet and then traverse through a stream. Here's a pic of the area we downclimbed…
The flowers were out in the meadows and the weather was great. We made the final turns down past all the wandering tourists, and then shouldered the packs for the short hike out to the car. This tour would have been sweet a few months ago, but I still can't complain given the late date. Back at the truck, we hit the road for the long return to the southern Willamette Valley, where fresh food from the garden and a weekend of rock climbing was waiting….