The climb up to Crater Rock on Mt Hood's south side is always a scenic one, especially once above the Timberline Ski Area lifts…..
I met Todd at the Alpine campground on the last day of June, and things were looking good for a summit attempt the following day. After pitching the tent and tending to the fire, we pulled out the camera and a beer and went searching for some photo opportunities. Here's a shot of Hood with an evening lenticular cloud…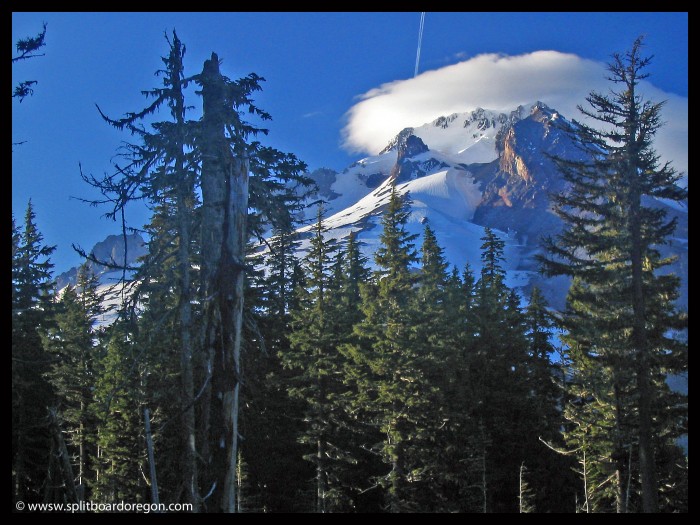 Sleep came easy that night, and the next morning we got a somewhat late start at a quarter till Six from the Timberline parking lot. We were able to skin from the lot, and made good time to the top of the Palmer, before switching to regular crampons at about 9000 feet on the White River snowfield.
The snow was firm along our entire ascent route. A large lenticular cloud kept the upper mountain concealed for several hours in the morning. We ended up waiting around 9000 feet for about an hour pondering our options. It did give us time to shoot a couple of cool photos though…
Eventually the clouds moved on and so did we, climbing to the Hogsback ridge. We chatted with a few climbers who were already descending, and took in the views. By now the sun was taking its toll, and the snow had started to soften. We reached 10,700 feet and the bergschrund at about 12:15. A few climbers were ahead of us on the Mazama route, and a skier and snowboarder made turns down from the summit, but conditions didn't look too favorable for riding.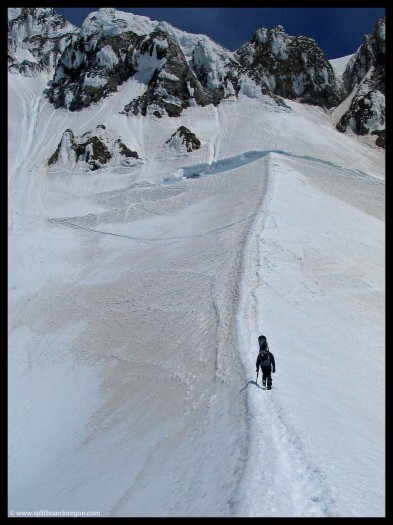 Given our late hour and the sketch conditions up above, we elected to ride down from here rather than boot up to the top for the last 500 feet, which required an out of the way traverse since the Pearly Gates were not in. The ride down was great, with the snow above 10,000 feet perfect corn that allowed for a nice edge.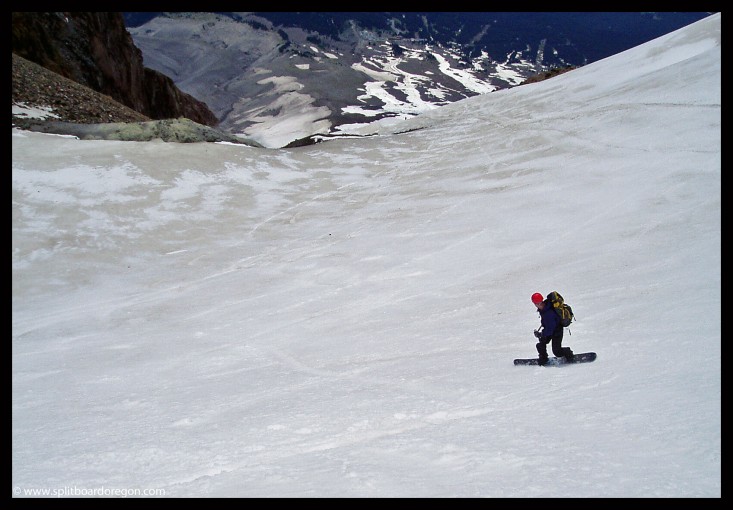 Todd made some nice tele-turns coming down from above 10,000 feet, though the last section below the Hogsback ridge was a little thin, but skiable without problem…
Below Crater Rock the skiing and riding was excellent. We rode out to the Zigzag glacier and harvested some of the best corn of the year. I took this shot which ended up the webpage of telemarktips.com…….
The Zigzag kept going and going, and the riding was excellent. We linked turn after turn of perfect corn.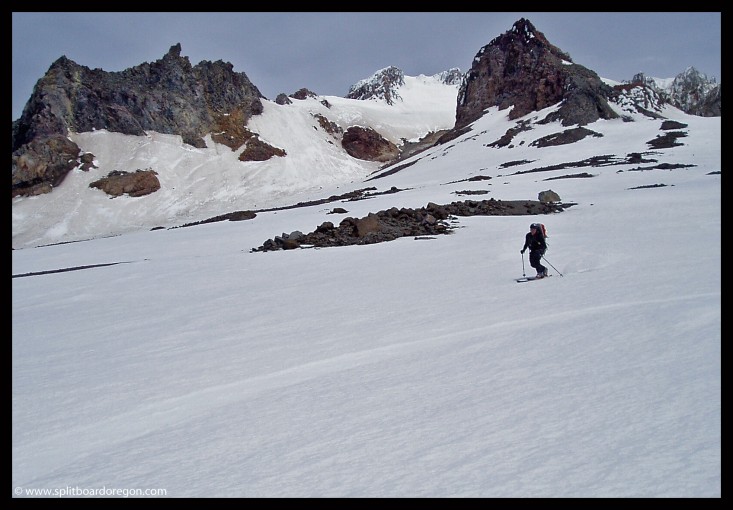 Below the Zigzag, we traversed back east and entered the ski area, where we were able to ride the groomed runs all the way to the lodge. Total vertical was 4700 feet of vertical with a joy-o-meter of 100%. It's definitely hard to beat that in July.